We have different ideas of a perfect Abu Dhabi itinerary. You can bring your whole gang of industrious hustlers to a desert-filled fun galore. Or bring your potential and existing business partners for some heritage or urban sightseeing tours while you contemplate the future of your business partnership. If you've got the time and budget, you can mix the best of both worlds.
But if you want to experience luxury and business in one go, a houseboat tour in Abu Dhabi is what you're looking for. It promises an exclusive moment to spend time with either your people or business partners while riding the crystal-blue water in style.
But isn't a houseboat rental a little over the budget, even for a business or company?
Well, it does require more financial commitment than other available activities out there. But just like in the business industry, the pricier something gets, the better the benefits. Price is nothing compared to exclusivity and lavishness you and your company can enjoy from a houseboat rental.
If you're still feeling skeptical about welcoming a houseboat tour to your business itinerary, check out these exclusive benefits you're guaranteed to enjoy when you book a tour. After reading this, you'll find yourself craving for a thrilling aquatic experience, courtesy of a deluxe houseboat in Abu Dhabi!
Complete house amenities to provide you a comfy tour experience
Home is where the heart is, so why not bring your home closer to you for a hearty Abu Dhabi experience? Renting a houseboat in Abu Dhabi is literally merging a home's comfort with a luxurious water-themed tour.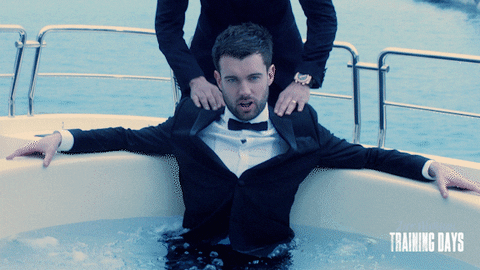 Everything you need in your home? It's all right here in your houseboat. Outdoor grills, hot tubs, bar, lounge area, entertainment station, and homey bedrooms. Your company and/or business partners will feel like they never left home, except they have the Emirate's water gracing their companies.
Alcohol and loud music belong in Abu Dhabi's naughty list, but don't think these two are the only thing you need to have the best tour experience. The ocean's your playground. You have full freedom to enjoy every aquatic activity you can think of – fishing, diving, jet-skiing, and more. It all falls down to your preference and your definition of fun and adventure.
Enjoy an undisturbed moment with the Emirate's water
When you stay in a houseboat rental in Abu Dhabi, nothing can disturb you of your relaxing time after a day of pumping adrenaline at land. It's a good place to catch up with your colleagues, employees, or business partners. Roar with laughter and share business ideas how long you want, without the worry of eavesdroppers or sensitive guests around.
You also get front-seat privilege when the sun rises and falls into its slumber. The reflection of the sunset in the water is one view you wouldn't want to miss!
Bask in the Abu Dhabi glory from a different perspective
Abu Dhabi has plenty to offer for excursionists of all types. Want to splurge on shopping, food tripping, or some urban sightseeing? The cityscape will welcome you to get a taste in the environment of the rich and famous.
Want to get your adrenaline rising as high as the Burj Kalifa (metaphorically, of course)? The safari and its line of activities are your sandboxes.
Simply looking to take a break from all the hustle-bustle of the city life? The Emirate's water will cradle you in its arms. Nothing defines a good travel experience in Abu Dhabi than enjoying it from a rare gem of a perspective.
Experience a different stay than hotel accommodations
Hotels and Airbnb's are always the top accommodation choices for people exploring Abu Dhabi. But this time, why not go the extra mile and experience a different kind of accommodation? Spend the night relaxing with the sound of water and the starry night sky as your roommates.
Think of renting a houseboat like bringing a hotel suite out of the hotels' walls and placing it in the middle of the ocean. You now have an undisturbed moment of relaxation after a day of excitement. The sound of the ocean waves doing their nonstop drifting is one perfect lullaby for ending the day.
And if you want to do a little sightseeing before you hit the hay, you're free to enjoy the panoramic view of Abu Dhabi drowning in colorful lights under the bed of stars and the moon.
No annoying tourists to rob you of your good time
We've all been there. That moment when you're dying to try this activity or enjoy quiet time before you resume your itinerary, only to find a loud, insensitive tourist ruining your moment. Cutting in line, making loud complaints, bumping into everyone just to take that Instagrammable photo – how we wish we can find a place free from these sinners.
Well, that's 100% possible when you take a houseboat excursion. Unless you find a tourist that can walk on water, you're free to enjoy Abu Dhabi in all its glory. No loud voices to interrupt you while admiring the city from a distance. No insensitive people cheating their way to get first dibs on this activity you're eyeing for.
An exclusive aquatic experience awaits at your next houseboat tour in Abu Dhabi
Take your next excursion to the next level with a houseboat tour in Abu Dhabi. Whether you're planning something relaxing for a company retreat, take your business partners into a different view from the office while discussing partnership ideas, or introducing a new product to the world, houseboats have got you covered.
Book a houseboat tour in Abu Dhabi now and experience the Emirate's turquoise water exclusively that's fit for a king.